Details

Created: Monday, 20 February 2012 07:15
Published: Monday, 20 February 2012 07:15
Written by Andy Kaufman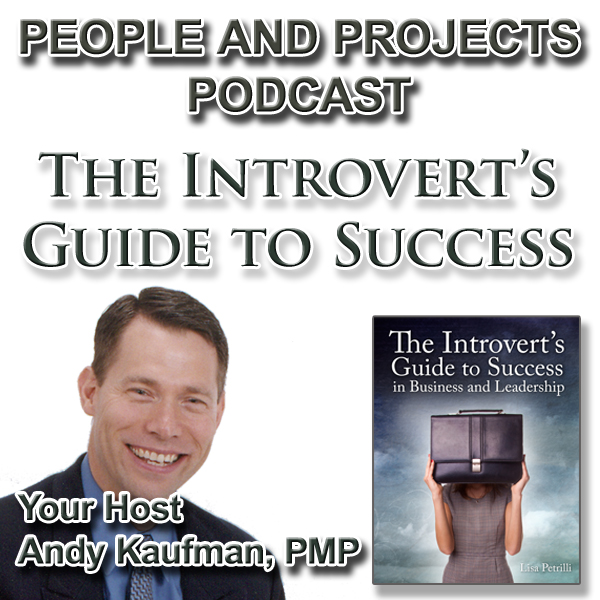 People Don't Listen To Me
Some years back I was sitting across the table from a coaching client. We were talking about what she thought was her inability to influence as effectively as she wished. In her soft-spoken manner she said, "I just feel like people don't listen to me."

I have to admit that the mischievous side of me wanted to say, "Um, what was that you said?"

Now, of course, I didn't say that, but let me ask you this.... Since she is quiet it's rather obvious she's an introvert, right? And it's probably fair to say that introversion is likely to hold her back from climbing the ladder, wouldn't you say?

Well how about this? The coaching client was a C-level executive in a highly successful organization. Though she very well may be an introvert, making that assessment so quickly without learning more is any easy mistake to make.
Can Introverts Be Effective Project Managers?
Can introverts be effective project managers and leaders? In this episode we talk about that with Lisa Petrilli, author of The Introvert's Guide to Success in Business and Leadership. To learn more about Lisa, please visit her website at LisaPetrilli.com.
Special Offer for Podcast Listeners
Whether you're an introvert or extrovert, we have a program firing up in a couple months that is designed to help you be more successful in business and leadership. It's called the Leadership Fast Track Program and I would love to have you be part of this year's program!
You would join a group of other leaders who are interested in improving their ability to lead and deliver. The program includes learning sessions, assessments, and one-on-one coaching sessions with me. We have participants from multiple companies and industries, and even countries! I facilitate the learning sessions live over the web, which minimizes your time away from the office. For listeners to the People and Projects Podcast I'm offering a $500 discount if you sign up before April 15. Visit http://www.i-leadonline.com/LeadershipFastTrackProgram.asp to learn more. I would love to have you in the program this year!
P.S. BTW, if you haven't listened to my interview with Devora Zack, author of Networking for People Who Hate Networking, make sure to check it out!
Join our Facebook Page
Please take a minute to stop by our podcast Facebook page! I invite you to Like it and the join the discussion.
Thank you for joining me for this episode of The People and Projects Podcast! Have a great week!
Total Duration 27:48

Download episode 70