Total Duration 20:59

Download episode 82
Could You Use Some Extra Hands On Deck?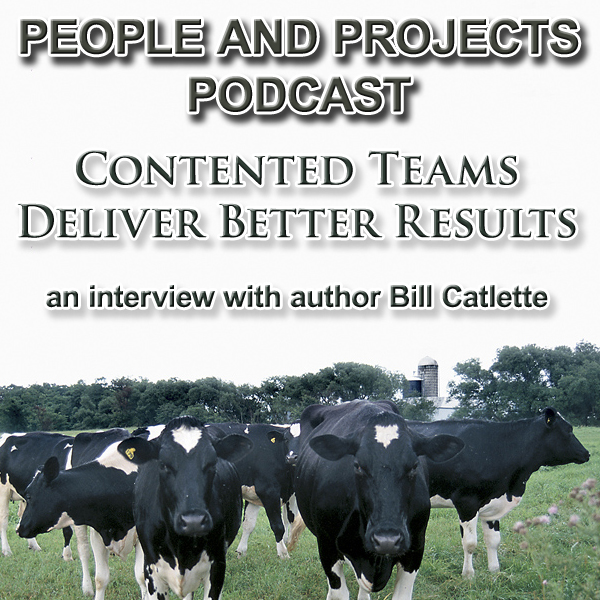 Could you use some extra staffing on your teams these days? I'm glad to say that I'm seeing more organizations hiring, which is a refreshing change from when our economy was at its worst a few years ago. But even those who are hiring typically aren't planning on doubling their staff any time soon.
So what if you need more staffing but your company isn't hiring? How can you keep up with the demands when the capacity of your team seems to be tapped out?
Contented Cows Give Better Milk
What about tapping into the discretionary effort reserve that most people have but leave untouched in the day-to-day grind of work? What is discretionary effort and how does that relate to the capacity of your team? In this episode I share a recent discussion with Bill Catlette. This last summer Bill and his co-author Richard Hadden released their new book entitled Contented Cows Still Give Better Milk, Revised and Expanded: The Plain Truth about Employee Engagement and Your Bottom Line, and there are some lessons for all of us about how we can better engage our teams.
Special Offer: 14 Free PDU's
Hey, here's the special offer I mention during the show. For years we have helped organizations improve their ability to lead and deliver through our keynotes and classroom-based project management workshops. Many have used these same workshops to help them prepare to pass the PMP®and CAPM exams as well as get PDU's after earning their certification. Well, the great news is that our two most popular project management workshops are now available in e-learning.
In fact, our Advanced Project Management workshop is so fresh off the e-learning presses that I'm going to give away free licenses to the first 10 people who get back to me. That means you get some great learning and I get some helpful feedback. If you'd like 14 free PDU's or contact hours, be one of the first 10 people to contact me. You can do that by leaving a comment on our facebook page or by e-mailing me at show [AT] i-leadonline [DOT] com. Contact me right away!
Join our Facebook Page
I invite you to stop by our podcast Facebook page! "Like" it and the join the discussion.
Thank you for joining me for this episode of The People and Projects Podcast! Have a great week!