Details

Published: Friday, 27 August 2010 14:51
Written by Andy Kaufman
Total Duration 32:12
Download episode 35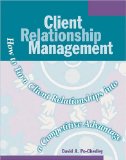 If you've followed this podcast or attended one of my keynotes on project management or leadership, you've likely caught onto my bias that the biggest successes, the biggest joys, the biggest failures, and the biggest stresses often come down to the same thing: people. Project management is ultimately people management.
Success with people management--and thus project management--can significantly depend on our effectiveness in areas such as communication, influence, and building relationships. One of the freshest voices on the people side of project management is consultant Dave Po-Chedley, PMP, author of Client Relationship Management: How to Turn Client Relationships into a Competitive Advantage. I had the opportunity to catch up with Dave recently and look forward to sharing that interview with you in this episode.
I invite you to learn more about Dave and the work of Cambridge Consulting (http://www.cambridgeconsult.com and http://www.pminsight.us).
One last thing: I received a message from a listener that I wanted to share with you:
Hi Andy,
I attended your 1-day tutorial at Better Software in June. That session was worth the price of the whole trip. Great, transformative stuff! I have since changed my listening habits in the car: I listen to management podcasts now. I decided to propose the Outlaw Team idea to my boss who leads an entire division in my company. He liked the idea and had me present it to his weekly leadership meeting. All the VPs liked the idea, with some suggestions. I then suggested action items to move it forward. My boss volunteered me to carry the ball. Yikes! Now I have to try and be the Andy Kaufman of our company. Nah. I'll just be me and see where we get. Never thought I'd go from eager student to mentoring others in leadership skills.
Thanks for your great work! Charlie
Well, congratulations to Charlie for taking action on the learning! 
Thanks for joining us for this episode of The People and Projects Podcast! Have a great week!